Key takeaways from recent webinar on Dialysis coming soon!
---
A large percentage of a hospitals overall cost structure is comprised of staffing and related payroll. Yet, the outsourced staffing industry does not maintain adequate transparency when it comes to managing costs to the end users, making price assessments difficult for health systems.
Below we've compiled the key takeaways from our recent educational webinar in which we provide information for health systems to more easily assess pricing and best practices when evaluating Staffing and Locum Tenens vendors. Read the synopsis below.
Click here to request the full webinar recording.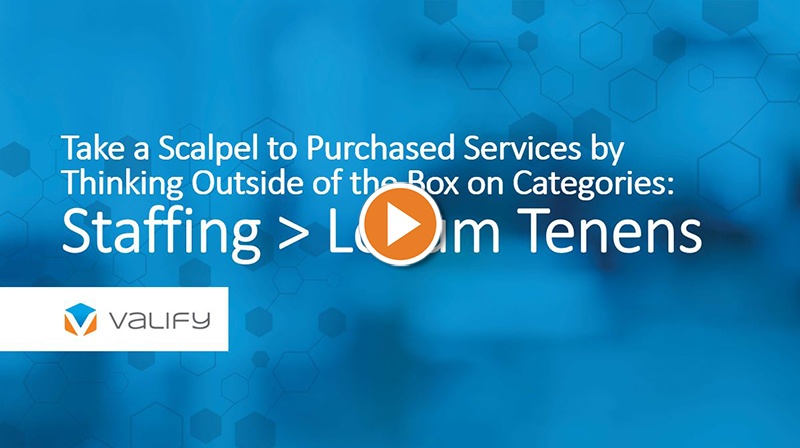 Also check out our in-depth articles on Staffing and Locum Tenens for additional background information.
Valify has over 1,200 unique categories across 7 services lines. Staffing is nested under our HR Services parent category with Locum Tenens designated as a subcategory within Staffing.
As a subcategory, Staffing expenses reached $19.9 million on average per health system in calendar year 2017. The average number of staffing vendors totaled 54, and Locum Tenens is just 1 of the 42 subcategories within Staffing.
An important distinction needs to be made between labor and staffing. While both make up a health systems workforce, within this article, we are only discussing procurement considerations and market insights for Staffing purchased services expenses.
According to Beckers ASC Review, the healthcare staffing market is expected to grow at a compound annual growth rate of 13.7% through 2021, at which point the market will likely reach $23.8 billion. Nurse and physician shortages increase the demand for contracted labor in hospitals and community services.
Staffing Market Insights
When assessing Staffing purchased services expenses, healthcare organizations should understand a few key market insights:
Price assessments may be difficult as the outsourced staffing industry lacks adequate transparency.
Depending on the staffing role within the organization, there are specific factors to consider when determining a savings strategy: critical position vs. routine, hospital type (community, Academic Medical Centers, safety net), and geography (rural, urban).
Be familiar with multiple cost structures and leverage benchmarking data to evaluate a staffing providers fitness for serving specific needs. Some providers excel in one area such as IT but may underperform in other areas such as nursing.
Some staffing providers are highly specialized and only compete in very narrow niches, whereas others may offer a full suite of managed services.
GPOs may offer staffing solutions.
Market Update: Locum Tenens
As a subcategory within Staffing, Locum Tenens expenses reached $3.2 million on average per health system in calendar year 2017. The average number of locum tenens vendors utilized by health systems totaled 5, and only 2 Locum Tenens vendors on average reached 80% of spend per health system.
Locum Tenens: Average Spend per Bed
Across Valify's $200 billion database, there are clear trends emerging in Locum Tenens spend. The chart below shows a material year-over-year increase in Locum Tenens spend per staffed bed since 2014, with a staggering 36% jump between 2016 and 2017.
Locum Tenens: Procurement Considerations
Cost efficient staffing strategies must be in place to keep services and revenue flowing.
Reducing costs associated with Locum Tenens is not always possible but is worth the scrutiny.
Locum Tenens factors to consider when applying benchmarking data:

High competition
Pricing models
Multiple vendors
More effective use of resources and data
Overtime multipliers
Click here to request the full webinar recording. Recording includes:
Top Locum Tenens vendors
Bill rate transparency
Locum Tenens complimentary benchmark