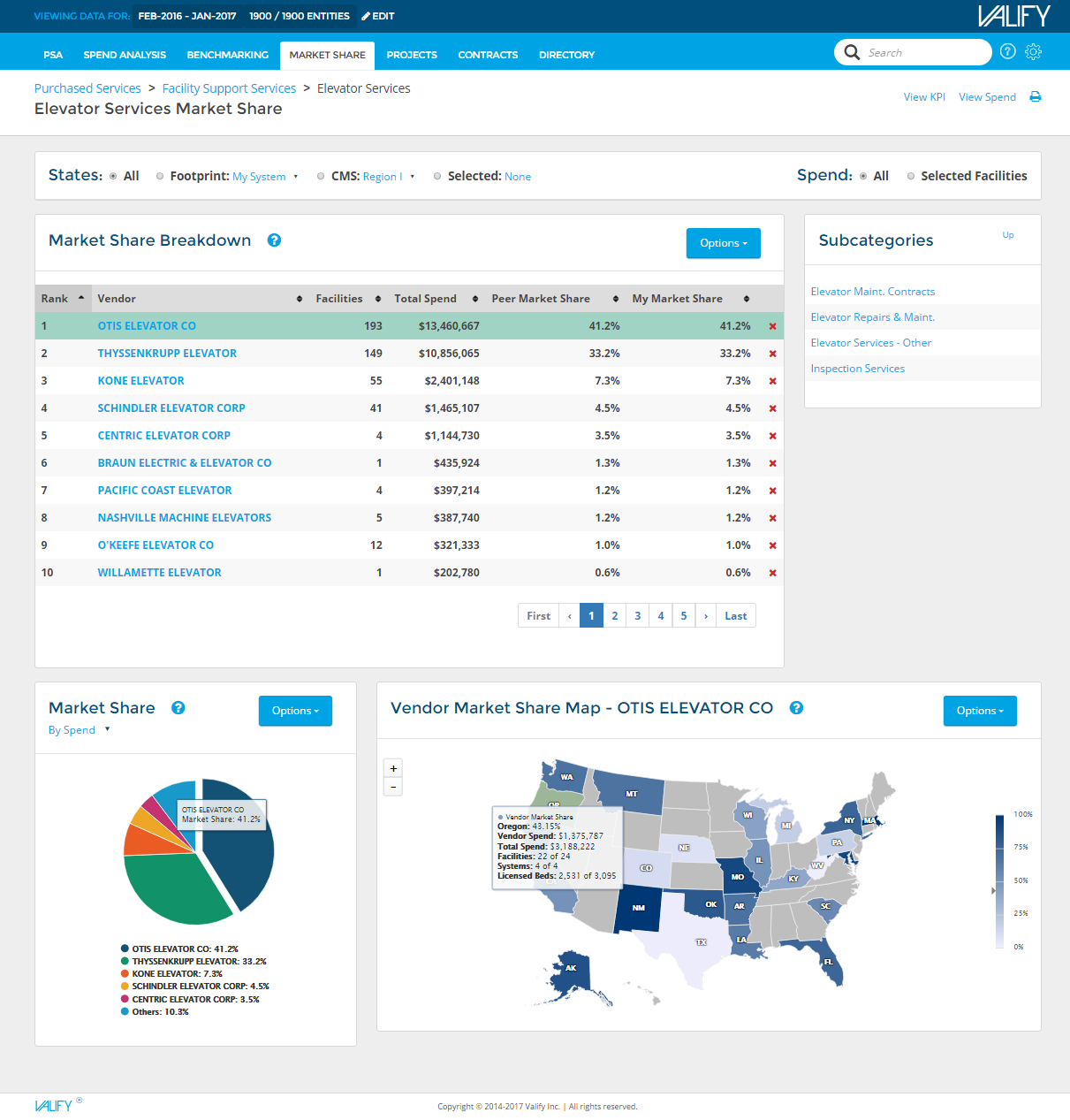 Valifys new Market Share feature, recently released in December 2016 enables healthcare organizations to analyze market share among their purchased services vendors while accessing Valifys exclusive database of hundreds of active healthcare organizations for deeper insight.
The new feature helps support organizations with securing more favorable contract terms with their vendors by understanding how much of the market each vendor holds in their industry and how many dollars peer healthcare organizations spend with them.
Market share insight now available
Until now, market share and spending data for just one vendor category was difficult to obtain, let alone the hundreds or thousands of purchased services vendors that contract with healthcare organizations. Market share reports and business databases can cost hundreds or thousands of dollars and few hospital purchased services professionals have the time to compile all that data.
Here are a few advantages offered through Valifys Market Share feature:
Category breakdown: View vendors, ranked by market share, for a particular purchased service category.
Graphical presentations: View a vendors market share with pie charts and other graphical presentations showing different insights, such as total spending and how many other health systems across the country are using the vendor.
By map: View a nationwide map of a selected vendors market share with the ability to click on each state for instant actionable information.
Filtering: Customize the view of a vendors market share across selected states or CMS regions.
In a few clicks, Valify customers can visualize how much they are spending on any or all vendors in a given category, but they can also view how much their peers nationwide are spending with those same vendors and how much business each vendor is doing with other hospitals. This insight can determine how competitive vendor rates are within a health systems own facilities and if the organization is spending more on average than the rest of the market. Valify customers not only gain visibility into the market share of the vendors they utilize, they also gain visibility into the vendors they do not utilize. These vendors represent a potential opportunity when going out to RFP.
Exclusive insight at no extra cost
Combined with the other purchased services spending intelligence that Valify delivers, healthcare organizations will be able to enter contract negotiations knowing more about their vendors than they do.
The Market Share feature is available to Valify customers at no extra cost. To learn more about Valifys many purchased services data analytic capabilities or to schedule a demo, click here.