From standard purchased services categories like laundry and linen or HVAC services to seasonal/geographic driven categories such as snow plow services, there are hundreds of categories and thousands of vendors that hospitals and health systems utilize daily. Every hospital and health system is different and has unique needs based on their location and the patients they serve. Aligning these particular needs with the unique factors that pertain to each purchased services category is challenging, and most of the work that is done during the RFP process can be daunting as well.
Depending on the complexity of the category, an RFP cycle can take four to six months from start to finish and require a time commitment of 5-20% from each sourcing professional during the bidding event (Robert J. Engel. Strategic Sourcing: A Step-By-Step Practical Model, The Procurement Centre). Insight from Valify's database shows, a typical health system's purchased services spend is spread out, on average, across 383 individual categories (some have spend across as many has 734 categories). These figures directly correlate to the number of vendors a health care provider has on contract.
It's fair to say that sourcing professionals spend a significant amount of time working on RFPs – including conducting research specific to each category, defining award criteria, managing vendor communications, evaluating responses, analyzing impacts, and negotiating final terms. While each of these aspects could benefit from process improvement measures, our purchased services experts have put together a list of the top three tips for accelerating the RFP process while achieving better results.
#1. The Importance of Defining Category-Specific Award Criteria
Every purchased service category your health system utilizes is unique. An important first step in accelerating the RFP lifecycle is to invest time up-front to develop a well-defined Statement of Work (SOW) and ask detailed questions that serve as the criteria on which contract(s) will be awarded. It's imperative that input into the requirements is solicited from all of those in the hospital who utilize the services covered by the RFP. These criteria will require each bidding vendor to specifically address how they will meet your specific category requirements. The objective here is to ultimately reduce time in the selection process by quickly zeroing in on the most qualified vendors and minimizing the risk of vendor management or service delivery problems after the contract has been awarded.
In the category Courier Services, for example, the pick-up of routine and STAT specimens and defining expectations for will-call and emergency courier services are critical to delivering effective patient care and should be core requirements for award. As these should become defined service level standards in the SOW, be sure to include specific questions in the RFP on how the vendor will monitor, report, and ultimately meet or exceed these standards. Below are some examples of category-specific questions:

Outside of pricing, category-specific criteria will ensure you will identify vendors that provide the best services and can meet the terms and conditions that ultimately will be written into the SOW. The above Courier Services sample questions are just a small example of category-specific criteria. The same level of detail should be applied for every category and on every RFP. Defining category-specific criteria will eliminate or drastically reduce surprises such as hidden costs, response time delays, or unexpected repairs disrupting services.

#2. Prioritize, prioritize, prioritize
After you've crafted your category-specific criteria to ensure you've addressed the unique requirements for the category and your organization's needs, the next step needed prior to issuing the RFP to vendors is to set yourself for success by establishing a weighted scoring scheme to be used in the review process. Applying a weighted scoring strategy of your criteria will make evaluating vendor responses more efficient and easier because you've already done the leg work of setting your priorities. Vendor proposals that most closely meet your requirements and expectations will be reflected by the highest scores.
Weighting Questions:
You'll notice that some responses will be more critical than others and are key to selecting the appropriate vendor, thereby ensuring the success of the future engagement. Prioritize and weigh the importance of each question by setting the maximum score for each question accordingly. For example, "Do you deliver after midnight?" If vendor availability after midnight is non-negotiable to your organization, this question deserves to have a maximum score that is higher than other questions. On the other hand, if there are a wide range of acceptable answers to a question such as, "Do you have vegan meal options?" make sure to set the maximum score at a lower level.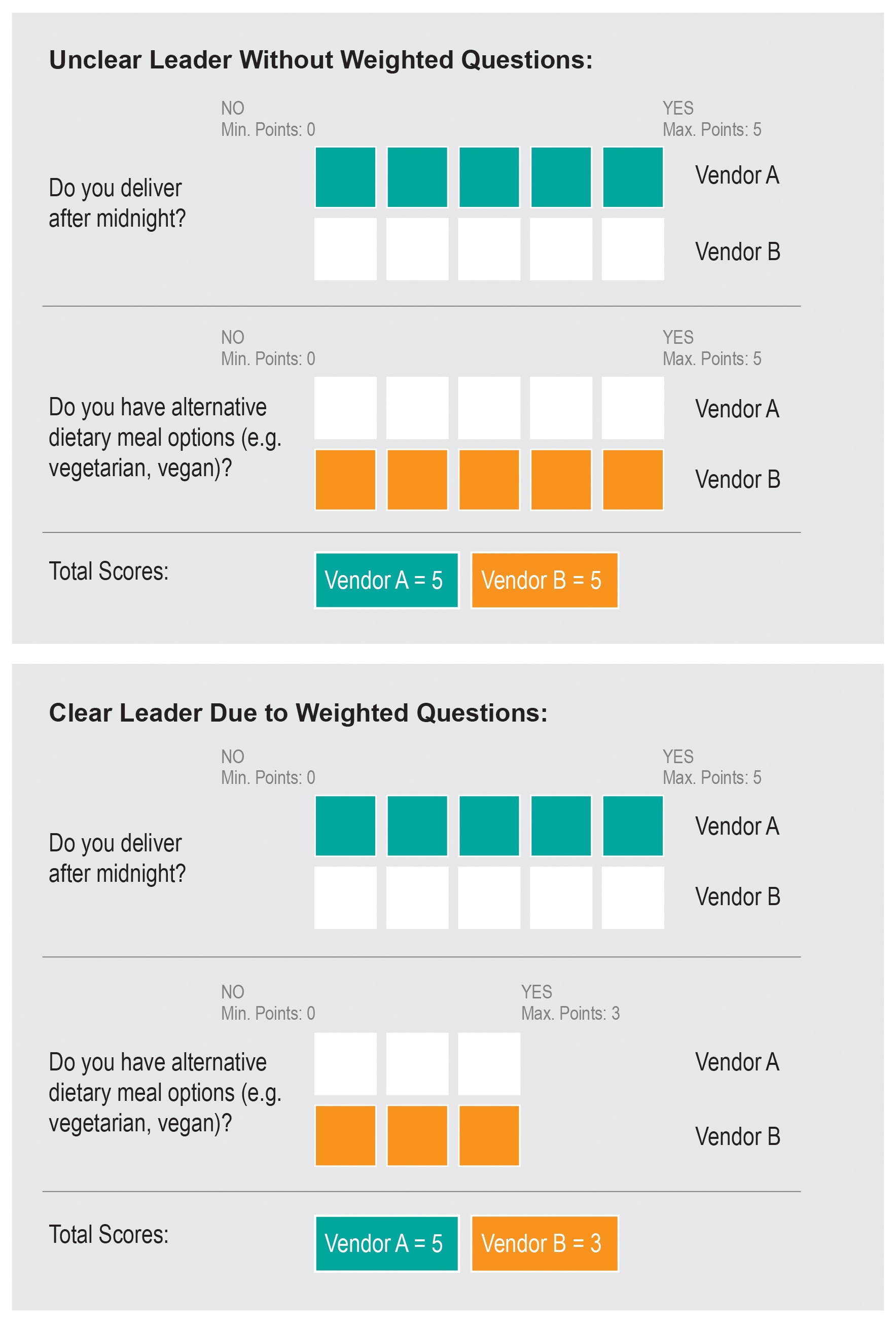 Since there is flexibility on acceptable responses to the second question in the example shown here, the maximum score must be lowered so that it doesn't inadvertently overshadow or give equal consideration to a response that is of greater importance.
Determining what's most important for your health system is an essential decision prior to sending your RFP out to vendors.
#3. Understanding the Market
Finally, the fastest way to your next exceptional vendor relationship is making sure that all appropriate vendors have been identified to receive your RFP.
Choosing which vendors to invite to participate in your RFP process can be a challenge. To make sure you connect with the most qualified vendors with the best pricing … leave no stone unturned! Most sourcing professionals will either ask their GPO, find vendors at tradeshows, or simply search the internet for vendors in the specific category space. They typically will start with the well-known national vendors and then they might include some regional and maybe a local vendor or two as well. Unfortunately, niche vendors who might be good candidates may never show up on your radar using this research method.
Another method is to contact other healthcare organizations in your market region and ask about the vendors they use in the category you're sourcing. Don't forget to check with universities, hotels, or other industries that might have insight into vendors providing services that are not exclusive to healthcare (e.g. elevator maintenance, facilities management, armored car services, etc). With a little bit of research in your own business community and the internet, you will have a better picture of which vendors to invite to your RFP process.
Additionally, this process ensures you have all the materials needed for the most favorable negotiations when the time comes. When inquiring among peers for referrals and recommendations, this gives you a better picture of the vendor's presence in the market which can be helpful during negotiations.
This research process is a counter intuitive time saving tip: though it can be time consuming to research all vendor options to be included in the RFP process, the time savings (and cost savings) are seen on the back-end when you've found the best vendor and are confident that you increased competition by including all options.
For complete vendor transparency, check out Valify's Vendor Market Share tool.
Summary
In summary, the best way purchased services sourcing professionals can optimize the results of their RFP process is to ensure the award criteria reflects category-specific needs, evaluate vendor responses appropriately through weighted scoring so the best vendors move to the top of your list automatically, and make sure you cast a wide net so as not to exclude vendors that otherwise may be a great fit.
Every step made toward ensuring the best vendor will be selected in the end is a step toward process improvement and reduces time spent on common vendor management issues that can arise when the selection isn't the best fit for your needs.