A normal day at Valify, a leader in healthcare purchased services expense management, includes meticulous sorting and categorizing of countless and widely varying purchased services expenses from medical gas to snow plowing transactions, and anything in between. Our mission is to help hospitals navigate the twisting, winding maze that is the healthcare supply chain and significantly impact their purchased services cost reduction goals. Recently, however, the Valify team stepped away from our keyboards and offices with another mission in mind to lend a helping-supply-chain-hand to our community.
Citizens of Frisco, Texas including the Valify family are proud of the charitable and helpful services provided by Frisco Family Services (FFS). This organization was established to help members of our tight-knit community who are facing hunger, homelessness, and other urgent needs to improve their quality of life and achieve self-sufficiency. In the 2017-2018 fiscal year alone, FFS assisted 3,447 Frisco and Frisco ISD family members, providing more than $1.1 million in annual program support, more than 398,000 meals, countless clothing and household goods vouchers at Frisco Resale, adult life skills classes for over 370 people, and back to school clothing, shoes and supplies for over 300 children. And that's not allFFS also distributed 205 Thanksgiving meals to families, provided nearly 900 children, parents and seniors with holiday gifts, and distributed more than meals to children at the Summer Lunch Program.
Each year, the Valify family participates in our Volunteer Day, in which the entire team leaves the office to meet at a local not-for-profit organization to spend the day helping the community. This year, our work at FFS had us doing what we do best using our supply chain management skills. As we all know, a supply chain is a network between an entity and its suppliers to produce and distribute a specific product or service, with the supply chain representing the steps it takes to get the product or service to the end user. Healthcare professionals know best that any error within the supply chain can result in a bottleneck effect that slows down all operational processes; therefore, diligent supply chain management and improvement is key to any organization's success. On Volunteer Day, Valify volunteers quickly developed a supply chain to streamline the sorting and stocking process to do the most good.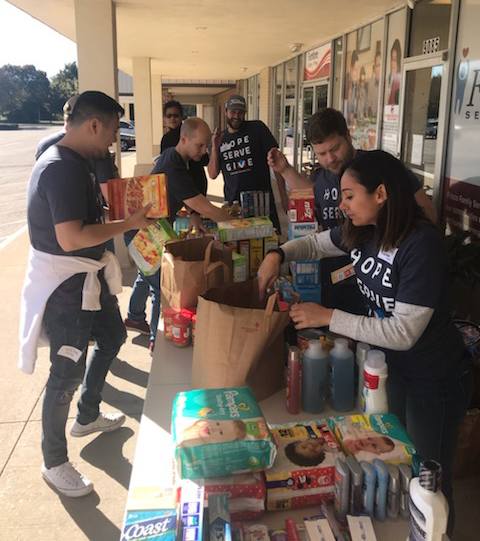 On this year's Volunteer Day, divided into two groups, half of our team helped at the Frisco Food Pantry, while the other half headed to the Frisco Resale Shop. At each location, after the task was delegated, a supply chain was set up. The first link in the chain included a group of Valify volunteers assigned to offload trucks as they arrived and deliver the bags of goods to the next station in the network: the sorting table. There, Valify employees removed items from grocery bags and sorted them into 83 subcategories under 10 different parent categories as directed by the FFS Volunteer Coordinators.
At this point, the bookkeeping began. Its important for donors to know how much is being donated and how their contributions are being distributed, so the sorted items were then scrupulously counted and each category's total was documented. Then, another team moved the items from the table into grocery carts which were wheeled into the store and stocked by category onto the shelves ready for Frisco families.
The several truck loads of donations was inspiring, and our team felt not only the short-term satisfaction of a job well done, but also a deep-seated pride in belonging to a community that is so giving to those less fortunate. The icing on the cake was seeing our impromptu supply chain at work making each volunteer as efficient and effective as possible!
At Valify, we are honored to be part of the Frisco community and recognize the importance of the many various services and assistance programs Frisco Family Services provides for its residents. We are also proud of our employees and their selfless willingness to help those in need. We look forward to doing more in our community as we continue to provide exceptional service for our customers in the years to come. Click here to learn more about our company and other acts of service.